---
October

Tuesday, October 9, 2018 at 8:00 p.m.
University of Delaware presents Romance
Serafin String Quartet violinist, Kate Ransom and cellist, Lawrence Stomberg with UD faculty, John David Smith, horn and Julie Nishimura, piano
Brahms Sonatensatz for violin and piano, Wo02; Brahms Trio in Eb Major for violin, horn and piano, Op.40; and Schumann Trio in g minor for violin, piano and cello, Op.110
Gore Recital Hall: Roselle Center for the Arts, UD campus
130 Amstel Avenue, Newark, DE, 19716
Tickets: Adults, $15; Srs/UD Staff & Alum, $10; Students, $5


---

Sunday, October 21, 2018 at 4:00 p.m.
The Arts at Trinity presents Ode to Joy - All Beethoven!
Serafin String Quartet violinst Kate Ransom with Guang Wang, cello and Jennifer Nicole Campbell, piano
Beethoven Trio in Bb Major for violin, cello and piano, Op.97 "Archduke"; Beethoven Trio in Bb Major for violin, cello and piano, Op.11; and Beethoven Sonata for violin and piano in Eb Major, Op.12 No.3
Trinity Episcopal Church, 1108 N. Adams Street, Wilmington, DE 19801
Free, donations appreciated


---
December

Monday, December 3, 2018 at 8:00 p.m.
University of Delaware presents Serafin String Quartet, Quartet in Residence
with UD Faculty Julie Nishimura, piano and Miles Brown, string bass
Shostakovich Quintet for piano and strings, Op.57 and Dvorák Quintet in G Major, Op.77 for two violins, viola, cello and bass
Gore Recital Hall: Roselle Center for the Arts, UD campus
130 Amstel Avenue, Newark, DE, 19716
Tickets: Adults, $15; Srs/UD Staff & Alum, $10; Students, $5


---
February

Sunday, February 3, 2019 at 4:00 p.m.
The Arts at Trinity presents Serafin String Quartet
Mendelssohn String Quartet in a minor Op.13 and Schumann String Quartet in A Major Op.41, No.3
Trinity Episcopal Church, 1108 N. Adams Street, Wilmington, DE 19801
Free, donations appreciated


---

Wednesday, February 13, 2019 at 8:00 p.m.
University of Delaware presents Serafin String Quartet, Quartet in Residence
with UD Faculty Miles Brown, string bass; John David Smith, horn; Christopher Nichols, clarinet; and Lynn Moncilovich, bassoon
Schubert "Octet" for strings and winds in F Major, Op. 166
Gore Recital Hall: Roselle Center for the Arts, UD campus
130 Amstel Avenue, Newark, DE, 19716
Tickets: Adults, $15; Srs/UD Staff & Alum, $10; Students, $5


---
April

Tuesday, April 9, 2019 at 8:00 p.m.
University of Delaware presents French Connection
Serafin String Quartet violinist, Kate Ransom and cellist, Lawrence Stomberg, with Gus Mercante, countertenor and Victor Asuncion, piano
Hahn A Chloris!, Franck Sonata for Violin and Piano in A Major, and Chausson Piano Trio in g minor
Gore Recital Hall: Roselle Center for the Arts, UD campus
130 Amstel Avenue, Newark, DE, 19716
Tickets: Adults, $15; Srs/UD Staff & Alum, $10; Students, $5


---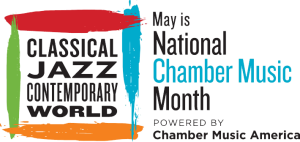 May

Sunday, May 5, 2019 at 4:00 p.m.
The Arts at Trinity presents Serafin String Quartet
Beethoven String Quartet in e minor Op.59, No.2 and Dvorák String Quartet in Eb Major, Op.51
Trinity Episcopal Church, 1108 N. Adams Street, Wilmington, DE 19801
Free, donations appreciated


---

Wednesday, May 8, 2019 at 7:00 p.m.
The Music School of Delaware presents Serafin String Quartet & Friends
Featuring performances by Serafin String Quartet, Amos Fayette violin, Genia Maslov violin, Luigi Mazzocchi violin (guest), Kate Ransom violin, Maria Rusu viola, and Liliya Maslov piano.
Program includes Enescu Nocturne Ville d'Avrayen, Grieg Violin Sonata in C minor, Op. 45, Schumann String Quartet in A major, Op. 41, No. 3, and Shostakovich Five Pieces for two violins and piano
Wilmington Branch, 4101 Washington St, Wilmington, DE 19802
Tickets: $10 adults, $5 seniors/students; proceeds benefit the Anthony G. Simmons Scholarship Fund and Annual Scholarships


---

Sunday, May 19, 2019 at 7:30 p.m.
The Milton Theatre presents Serafin Ensemble
Featuring performances by Kate Ransom, violin; Amos Fayette, violin; Charae Krueger, cello; and Luke Fleming, viola.
Program includes Haydn Duo for violin and viola; Gaspar Cassado Preludio-Fantasia (A Zarabanda) for solo cello; Max Reger Sonata for Solo Viola; Lipinski "Caprice" Op. 29, No. 3; Leclair Duo for two violins in e minor; and Beethoven String Quartet in C Minor, Op. 18, No. 4.
The Milton Theatre, 110 Union Street, Milton, DE
Tickets are $17-22, available for purchase by clicking here.


---
June

Thursday, June 20 at 7:00 p.m.
Serafin Summer Music - BOHEMIAN GEMS
Dvořák "Sonatina" for violin and piano
Smetana "Two Pieces From My Native Land" for violin and piano
Dvořák "Terzetto" for two violins and viola
Smetana String Quartet No. 1 in E Minor "From MY Life"
The Music School of Delaware - Wilmington Branch, 4101 Washington St, Wilmington, DE 19802


---

Friday, June 21 at 7:00 p.m.
Serafin Summer Music- IT'S CLASSIC!
Michael Haydn Duo for violin and viola
Beethoven Piano Trio Op. 1, No.1
Schubert song set for countertenor, piano
Schubert "Trout" Quintet for violin, viola, cello, bass, piano
The Music School of Delaware - Wilmington Branch, 4101 Washington St, Wilmington, DE 19802


---

Saturday, June 22 at 5:00 p.m.
Serafin Summer Music - FRIENDS and MENTORS
Brahms Sonatensatz in G Minor for violin and piano
Schumann "Fairy Tales" for clarinet, viola and piano
Niels Gade Sonata in D Major for violin and piano
Dohnanyi Piano Quintet No.1 in C Minor
The Music School of Delaware - Wilmington Branch, 4101 Washington St, Wilmington, DE 19802


---

Sunday, June 23 at 4:00 p.m.
Serafin Summer Music - OUT OF BAVARIA
Mozart D Major Quartet for flute, violin, viola, cello
Reger Sonata in G Minor for solo viola
Schumann "Fantasy Pieces" Op. 73 for cello and piano
Brahms Piano Quartet in G Minor for violin, viola, cello, piano
The Music School of Delaware - Wilmington Branch, 4101 Washington St, Wilmington, DE 19802


---

Thursday, June 27 at at 7:00 p.m.
Serafin Summer Music - FRENCH FORAY
Leclair Duo for two violins
French Song Set
Faure Piano Quartet in C Minor
The Music School of Delaware - Wilmington Branch, 4101 Washington St, Wilmington, DE 19802


---

Friday, June 28 at 7:00 p.m.
Serafin Summer Music - THE THREE B's
Bach G Minor Sonata for solo violin
Beethoven String Quartet in C Minor, Op. 18, No.4
Brahms Piano Trio in C Major, Op. 87
The Music School of Delaware - Wilmington Branch, 4101 Washington St, Wilmington, DE 19802


---

Saturday, June 29 at 5:00 p.m.
Serafin Summer Music - RUSSIAN ROMP
Khachaturian Trio for clarinet, violin, piano
Arensky Trio in D Minor, Op. 32 for violin, cello, piano
Borodin Piano Quintet in C Minor
The Music School of Delaware - Wilmington Branch, 4101 Washington St, Wilmington, DE 19802


---

Sunday, June 30 at 4:00 p.m.
Serafin Summer Music - FINALE FIREWORKS
Brahms Sextet in Bb Major, Op. 18 for two violins, two violas, two cellos
Tchaikovsky "Souvenir de Florence" for two violins, two violas, two cellos
The Music School of Delaware - Wilmington Branch, 4101 Washington St, Wilmington, DE 19802