---
October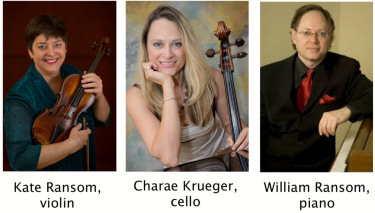 Sunday, October 20, 2019 at 4:00 p.m.
The Arts at Trinity presents Serafin Ensemble & Friends
Kate Ransom, violin, Charae Krueger, cello, and William Ransom, piano
Featuring Mozart Sonata in Bb Major, K. 378; Gaspar Cassado "Preludio" from suite for solo cello; Smetana Two Pieces From My Native Land; and Dvořák Piano Trio in E Minor, Op. 90 "Dumky"
Trinity Episcopal Church, 1108 N. Adams Street, Wilmington, DE 19801
Free, donations appreciated


---
December

Thursday, December 12, 2019 at 7:00 p.m.
The Milton Theatre presents Serafin Winter Music
Kate Ransom and Amos Fayette, violins; Luke Fleming, viola; Jacques-Pierre Malan, cello; and Gus Mercante, countertenor
Featuring Vivaldi "Winter" from the Four Seasons; Vivaldi Aria for Alto, strings, basso continuo; Dvořák "Terzetto" for two violins and viola ; Beethoven Duo in Eb Major for viola and cello, Woo 32 "Eyeglasses Obligato"; Beethoven String Quartet in C Minor, Op. 18, No.4; "Sleigh Ride" for String Quartet; and Carols for the Season – Sing Along!
The Milton Theatre, 110 Union Street, Milton, DE 19968 Tickets $18-$23, purchase online at miltontheatre.com


---
January

Tuesday, January 14, 2020 at 7:30 p.m.
Crosslands Concerts presents Serafin Ensemble
Kate Ransom and Amos Fayette, violins; Luke Fleming, viola; Jacques-Pierre Malan, cello; and Victor Asuncion, piano
Featuring Beethoven Duo in Eb Major for viola and cello, Woo 32 "Eyeglasses Obligato"; Haydn Piano Trio in C Major Hob XV:27; and Beethoven String Quartet in C Minor, Op. 18, No.4




---
Wednesday, January 15, 2020, at 7:00 p.m.
The Music School of Delaware presents Serafin Ensemble: A Beethoven Celebration!
Remembering William Jackson Stegeman
Kate Ransom and Amos Fayette, violins; Luke Fleming, viola; Jacques-Pierre Malan, cello; and Victor Asuncion, piano
Featuring Beethoven in Eb Major for Viola and Cello, Woo 32, Eyeglasses Obligato; Beethoven Sonata No. 8 in G Major for violin and piano, Op. 30; Beethoven Sonata for piano in G Minor, Op. 13 "Pathetique"; and Beethoven String Quartet in C Minor, Op. 18, No.4
Wilmington Branch, 4101 Washington St, Wilmington, DE 19802
Tickets: $10 adults, $5 seniors/students


---
Sunday January 19, 2020 at 4:00 p.m.
The Arts at Trinity presents Serafin Ensemble
Kate Ransom and Amos Fayette, violins; Luke Fleming, viola; Jacques-Pierre Malan, cello; and Victor Asuncion, piano
Featuring M. Haydn Duo for violin and viola; Haydn Piano Trio in C Major Hob XV:27 and Caesar Franck Piano Quintet
Trinity Episcopal Church, 1108 N. Adams Street, Wilmington, DE 19801
Free, donations appreciated


---
March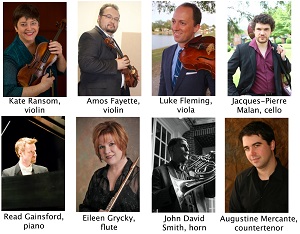 POSTPONED


Sunday, March 22 at 4:00 p.m.
The Music School of Delaware, Milford Branch presents Serafin Ensemble
Kate Ransom and Amos Fayette, violins; Luke Fleming, viola; Jacques-Pierre Malan, cello; Eileen Grycky, flute; John David Smith, horn; Gus Mercante, countertenor; and Read Gainsford, piano
Mozart Flute Quartet in D Major; Vivaldi Aria for countertenor and string quartet; Vivaldi for countertenor, flute, and string quartet; Beethoven Serenade for Flute, Violin, Viola; M. Haydn Duo; Liebermann Horn Trio; Beethoven Horn Sonata
Milford Branch, 23 North Walnut Street, Milford, DE 19963
Tickets: $10 adults, $5 seniors/students


---



POSTPONED TO JUNE 11


Monday, March 23, 2020 at 8:00 p.m.
University of Delaware presents Serafin Ensemble
Kate Ransom and Amos Fayette, violins; Luke Fleming, viola; Jacques-Pierre Malan, cello; Eileen Grycky, flute; John David Smith, horn; Gus Mercante, countertenor; and Read Gainsford, piano
Mozart Flute Quartet in D Major; Vivaldi Aria for countertenor and string quartet; Vivaldi for countertenor, flute, and string quartet; Beethoven Serenade for Flute, Violin, Viola; M. Haydn Duo; Liebermann Horn Trio; Beethoven Horn Sonata
Gore Recital Hall: Roselle Center for the Arts, UD campus
130 Amstel Avenue, Newark, DE, 19716
Tickets: Adults $15; Seniors $10; Students $5


---
April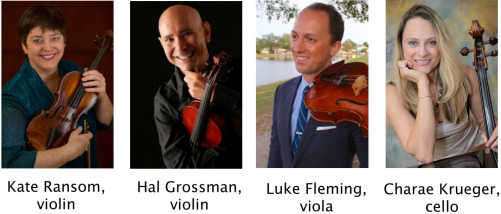 POSTPONED TO JUNE 25


Thursday, April 2, 2020 at 7:00 p.m.
The Milton Theatre presents Serafin Ensemble - A Little Night Music
Kate Ransom and Hal Grossman, violins, Luke Fleming, viola, and Charae Krueger cello
Mozart Eine Kleine Nachtmusik, Mozart Duo in G Major for Violin and Viola and Beethoven String Quartet in Eb Major, Op.74
The Milton Theatre, 110 Union Street, Milton, DE 19968
Tickets $18-$23, purchase online at miltontheatre.com


---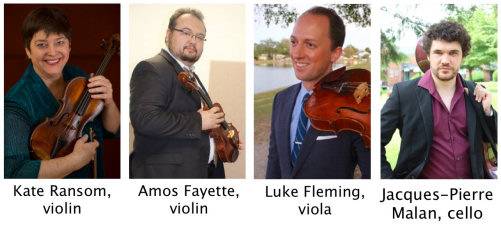 Sunday, April 26, 2020, at 4:00 p.m.
Private concert
---
June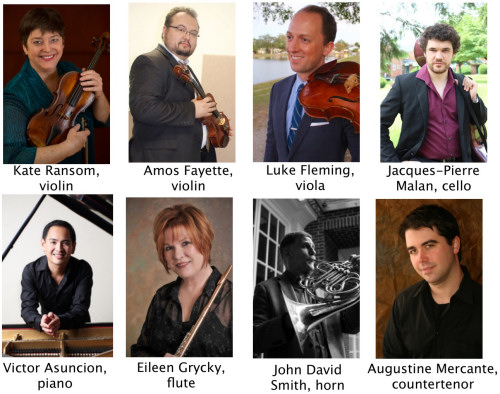 Thursday, June 11, 2020 at 8:00 p.m. (Rescheduled from March 23)
University of Delaware presents Serafin Ensemble
Featuring the Delaware premiere of the Lowell Liebermann Horn Trio
Liebermann is one of America's most frequently performed and commissioned composers and has been described by The New York Times "as much of a traditionalist as an innovator."
The program repertoire salutes Beethoven—Sonata for Horn and Piano and the Serenade for Flute, Violin, and Viola and showcases Mozart's sweet and lively Quartet for flute and strings in D Major.
Featuring artists Kate Ransom and Amos Fayette, violins; Luke Fleming, viola; Jacques-Pierre Malan, cello; Eileen Grycky, flute; John David Smith, horn; and Victor Asuncion, piano
Gore Recital Hall: Roselle Center for the Arts, UD campus
130 Amstel Avenue, Newark, DE, 19716
Tickets: Adults $15; Seniors $10; Students $5


---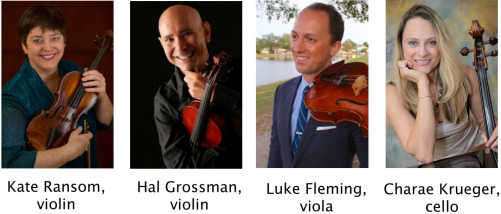 Thursday, June 25, 2020 at 7:00 p.m. (Rescheduled from April 2)
The Milton Theatre presents Serafin Ensemble - A Little Night Music
The program opens with Mozart's famous and popular "Eine Kleine Nachtmusic," followed by his concerto-like Duo in G Major for Violin and Viola. The celebration of Beethoven continues with the Serafins' rendition of his String Quartet in Eb Major, Op. 74, nicknamed "The Harp," for the work's virtuosic arpeggiated passages.
Featuring artists Kate Ransom and Hal Grossman, violins, Luke Fleming, viola, and Charae Krueger cello
The Milton Theatre, 110 Union Street, Milton, DE 19968
Tickets $18-$23, purchase online at miltontheatre.com
Note to April 2 ticket holders: tickets have been automatically transferred to June 25. Please call 302-684-3038 with any questions.