The Serafins return to live performances this season. Up next: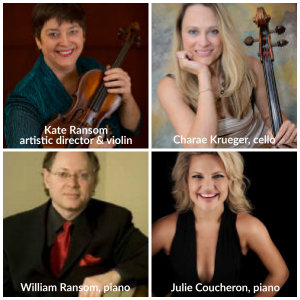 Wednesday, December 16, 2020 at 7:00 p.m.
Beethoven's Fifth! - A Beethoven Birthday Party
Beethoven was born 250 years ago on December 16, 2020
Featuring artists Kate Ransom (violin), Charae Krueger (cello), Julie Coucheron (piano) and William Ransom (piano)
Works include Sonata No. 5 (Spring) for violin and piano, Cello Sonata #5, and Fifth Symphony for Piano Four Hands
*This performance will include a special giveaway to a lucky winner - Stay tuned for details!
The Music School of Delaware – Concert Hall, 4101 North Washington Street, Wilmington, DE 19802
Suggested minimum donation $20/person. Click here for reservations
Sunday, May 2, 2021, at 4:00 p.m.
The Arts at Trinity
Works by Mozart, Schumann, Findeisen
Wednesday, May 5, 2021, at 7:00 p.m.
The Music School of Delaware
(benefits the Anthony G. Simmons Scholarship Fund)
Works by Schubert, Hummel, Schubert
Serafin Summer Music returns!
June 4-19, 2021
Click here for more info on these and other upcoming performances.
---

"silken finesse and gritty vibrancy"
- Gramophone Magazine
"performances are exceptional"
- American Record Guide
"playing with style and sophistication"
- The Strad Magazine