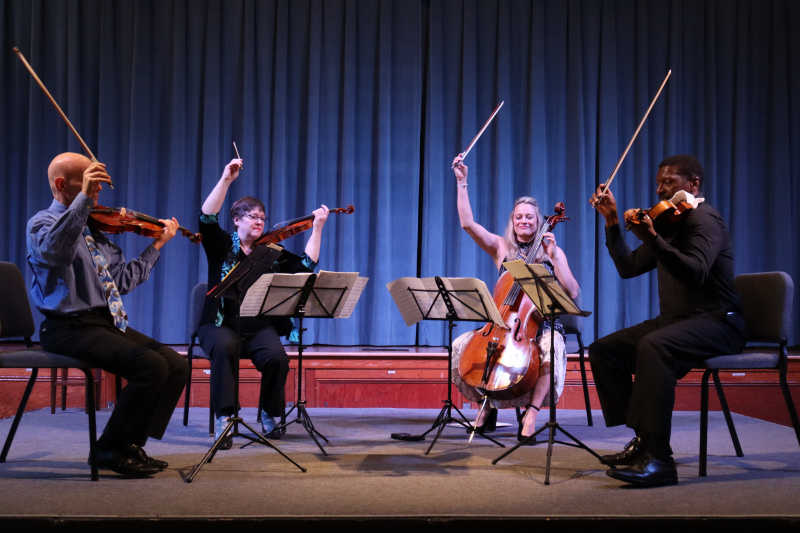 Photo by Adriana Cazzell

SERAFIN SUMMER MUSIC 2023 - SAVOR the FLAVOR of Great Chamber Music!
Performances in Wimington, Lewes, and Millsboro, Delaware, June 9-25, 2023
Fifteen stellar musicians from around the nation will perform nine concerts of instrumental and vocal works by Mozart, Bach, Mendelssohn, Brahms, Stravinsky, Schubert, and others whose brilliance defines musical mastery and transcendence. Concerts take place at The Music School of Delaware in Wilmington (Fridays/Sundays), and in Lewes and Millsboro (Saturdays).
The performances offered are: Finesse, Flash and Flair! and Magnificence! June 9 –11; Italiana! and Pure Romance June 16-18; Mozart to Modernism and Fireworks! June 23 – 25. For tickets and more details, please click here.
Diverse selections feature solo harpsichord, violin duos, piano quartets/quintets and works for combinations of winds, strings, and voice. These performers have collaborated in international venues and are known for their sensitive and electrifying performances.
RESONANCE
exhibit opens May 3rd in Wilmington with a Gallery Talk by Flavia (5:30) followed by a pre-season Serafin concert at 7pm.
Click here for tickets
The Italiana! program (June 16 and 17) pairs with a photo exhibit, RESONANCE, of portraits by Italian photographer Flavia Loreto whose work captures the soul of each musician. Ms. Loreto will also be on hand at the performances and Italian style receptions to meet audience members.
The visiting Serafins will also present masterclasses each week during the festival (open to the public at no charge) with students of The Music School of Delaware.
To purchase tickets, please click here.
Questions? CONTACT: Gus Mercante gmercante@musicschoolofdelaware.org
Call 302-588-1501
YOU, and Longwood Foundation Keep Great Performances Alive in DE! Longwood is MATCHING new/increased donations to The Music School of Delaware - Support SSM 2023!
This year, donors can support Serafin Summer Music and their new or increased donations (to the Music School - designated to Serafin Summer Music) are being matched by the Longwood Foundation! CLICK HERE TO DONATE or add a donation on to your ticket purchase.
Attendance as well as sponsorships have increased year to year as the festival is increasingly a magnet for audience members drawn to the arts-rich environment in our state. To sponsor, volunteer, or serve as a housing host, contact festival manager, Gus Mercante, at gmercante@musicschoolofdelaware.org or call 302-588-1501.
Click here for more info on these and other upcoming performances.
---

"silken finesse and gritty vibrancy" - Gramophone Magazine

"performances are exceptional" - American Record Guide

"playing with style and sophistication" - The Strad Magazine