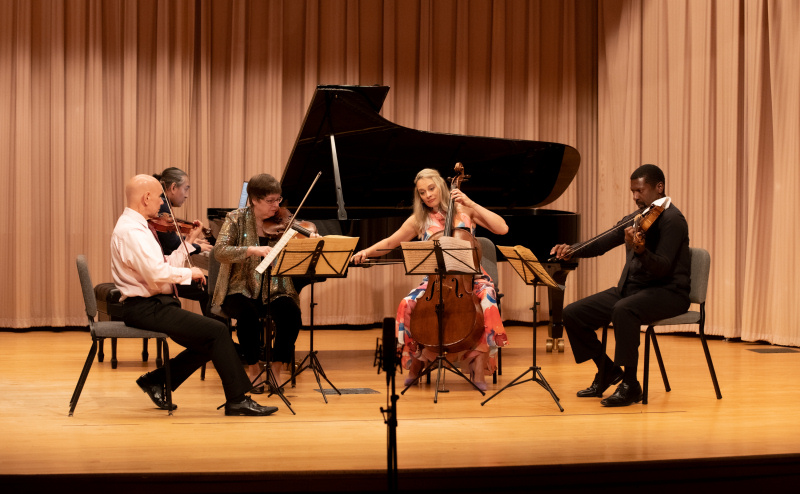 Photo by Flavia Loreto
Fall 2022 Brings Serafins to the Northeast and MidAtlantic! Up next:
In mid-September, members of Serafin Ensemble will provide a short performance for a private event hosted by Brown Advisory in Centreville, DE. (This is an invitation-only event).
October finds the Serafins together (violinists Eric Pritchard and Kate Ransom, violist Amadi Azikiwe and cellist Jacques-Pierre Malan) for two performances of works by Beethoven, Mozart and Michael Haydn. One is in New York for the Music at the Gate series, and the other is for a special history conference to be held in Delaware. More info.
In November The Arts at Trinity in downtown Wilmington presents Serafins in Best of the Brits! Come enjoy masterful and charming works by Elgar (including his Piano Quintet), Britten, Dowland, Purcell, and Handel (his famous Suite for Harpsichord in G Minor). In Delaware for this concert will be Hal Grossman and Kate Ransom, violin; Amadi Azikiwe, viola; Jacques-Pierre Malan, cello; Augustine Mercante, countertenor; Gabriel Benton, harpsichord; and Read Gainsford, piano.
A few days later, Serafins Kate Ransom and Amadi Azikiwe will be the featured soloists for Mozart's Symphonie Concertante in a special performance at The Music School of Delaware. More info.

Serafin Summer Music returns in 2023!
Another stellar line-up of collaborative chamber musicians will descend upon Delaware in June. Creative programming venturing from the Baroque to the 20 th Century, is rich with favorite treasures by Mendelssohn, Brahms, Mozart, Schumann, Stravinsky, and Bach and peppered with novelties and less familiar gems by Dohnanyi, Rossini, Boccherini, and more. Included in the instrumentation this coming June will be flute, oboe, clarinet, and harpsichord, along with strings, piano, and voice. More info.
TICKETS available APRIL 1, 2023 at musicschoolofdelaware.org
Keeping Great Performances Alive in DE - Supporting SSM!
John du Pont's generous matching campaign raised over $10,000 for Serafin Summer Music 2022. Thanks, John, and to all those wonderful supporters, for helping underwrite expenses for this program of The Music School of Delaware. Ticket sales account for approximately 30% of the SSM budget. You can donate to help Serafin Summer Music at any time. We are grateful for every donated dollar that is directed (through Serafin-restricted gifts to the Music School) to the festival. Please consider donating – gifts are tax-deductible to the full extent of the law.
To donate securely online, visit the Music School site and direct your gift to "Serafin Summer Music". Or, mail your check, payable to "The Music School of Delaware (Serafin Summer Music)", 4101 N. Washington Street, Wilmington, DE 19802.
For sponsorship information, gifts of stock, or other donation questions, please contact the Development Office at development@musicschoolofdelaware.org or call 302-762-1132 ext.110.
YOU help ensure that world class chamber music thrives in Delaware - an arts and culture destination!
Click here for more info on these and other upcoming performances.
---

"silken finesse and gritty vibrancy" - Gramophone Magazine

"performances are exceptional" - American Record Guide

"playing with style and sophistication" - The Strad Magazine